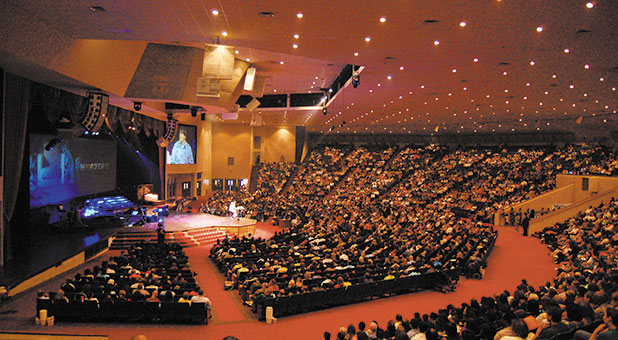 Losing a child can be devastating, but when a pastor is thrust unexpectedly into such grief, it's even more difficult to handle with the church—and the world—watching. Rob and Laura Koke, pastors of Shoreline Church in Austin, Texas, were confronted with that kind of loss when a police officer and a grief counselor showed up at their door to tell them their 17-year-old son, Caleb, had been killed in a car accident. Soon the Kokes had to make a decision: How would they handle their pain in public?
On the way back from a youth gathering, Caleb had fallen asleep at the wheel and crashed into a tree just a mile and a half from home. Pastor Rob was shocked to hear the news a mere 12 days after his father had died in a boating accident. Caleb was larger than life and full of love for God, his family and his friends.
With the news, Pastor Rob fell to his knees. By his side, Pastor Laura broke down in tears, realizing Caleb was gone from earth suddenly and irrevocably.
"I cried out for whatever comfort God would give," Pastor Laura says.
Get Spirit-filled content delivered right to your inbox! Click here to subscribe to our newsletter.
In the aftermath of the tragedy, support poured in for the Koke family. Worship music was played nonstop in the Kokes' home for weeks following the accident as family, church members and pastor friends sought to bring comfort.
"Other people were lending us their strength," Pastor Laura says.
As pastors flew in at their own expense and volunteered to preach Sundays, the Kokes were able to take time off for counseling and solace in the Colorado mountains.
Craig Groeschel, senior pastor of Life Church, and Brian Houston, senior pastor of Australia's Hillsong Church, are among the friends who supported the Kokes during this time.
"Rob and Laura endured one of life's worst nightmares with more grace than I could describe," Pastor Groeschel says. "Losing a child often causes many couples to lose all hope. But this faith-filled couple ran to the 'God of all comfort' and found hope and strength in His presence in a way that touched my family deeply. People often say, 'God is good.' But the Koke family helped me to see the goodness and faithfulness of God in a way I'll never forget."
Reflecting on the inevitability of trials, Houston said the Kokes endured their horrific trial with grace.
"'To everything there is a season, a time for every purpose under heaven' (Eccl. 3:1, NKJV)," Houston says. "As much as we may not like it or understand it, everything means all the painful, unexpected, disappointing, frightening, challenging moments as well as all the joyful, predictable, exciting, reassuring and comfortable ones. No one knows this better than my friends Rob and Laura Koke. When life handed them one of the greatest of despairs, unexpected pain, mourning, grieving, suffering and loss, I believe that their response, posture and ongoing journey pleased the heart of God. Their steadfastness to lean into God, to live transparently with others and to continue moving forward (when no one would have blamed them for pulling back) is a testimony to the resilience, hope and life we have in Jesus. I believe that God can use our suffering and even life's most torturous circumstances for His eternal purposes—evidenced in the way that Caleb's life and Rob and Laura's ministry have impacted so many, even after his death."
Grieving the Future
From the beginning of the grieving process, Pastor Rob and Pastor Laura, who have been married for nearly 30 years, chose to be transparent about their brokenness with their congregation of 5,000.
"We don't have all the answers, and we have not figured it all out," Pastor Rob confessed. "As people on the same journey as so many other people who face difficulties and loss, there is an appropriate place for vulnerability in a church. In fact, people identify with pain and suffering more than they do with success."
These pastors refused to put on any Christian "mask" to hide their questions and struggles as they sought to come to terms with the tragedy God allowed in their lives.
"I don't understand how people who lose a child survive without Christ," Pastor Rob says. "It's been said that when you lose a parent, you grieve the past. When you lose a spouse, you grieve the present. But when you lose a child, you grieve the future. We'll never experience Caleb graduating from college, getting married, having his own kids. We miss Caleb tremendously."
From the start, Pastor Laura realized life would never be the same again.
"For years, I had a stabbing feeling in my heart every day I woke up, saying to myself: 'This is real. Oh my God, for the rest of my life ... so much pain."
Reaching for his wife's hand, Pastor Rob explained how negativity knocked on the door of his own mind as the accident stirred up hard questions.
"When you go through tragedy and loss, you ask yourself: 'What did I do wrong?' Maybe what I thought about God isn't true. Maybe God is all-loving but not all-powerful. If He loves me, God would have stopped the car from hitting the tree."
The Shoreline Church pastors are glad "Job's friends" did not show up at their house.
"When you go through loss, people don't know what to say. Emotions are so tender. It's better not to explain the unexplainable. Just give hugs and love."
"No matter what someone says at a time of tragedy, all they're trying to say is: 'I am sorry for what happened in your life' and 'I love you.' I can't tell you how much that helped. People mean well."
Trusting in God
In their loss, the Kokes were more parents than pastors—more frail humans in need of Christ than superspiritual Christians. Their story is the story of hundreds or perhaps thousands of ministers who have suffered heart-breaking loss.
"You never get over it," admits Pastor Rob, who shared how recently seeing Caleb's old scorecard from a game of Yahtzee prompted deep sadness. "You absorb it into a new reality."
Pastor Rob found hope when another pastor who had lost a child reached out in a letter.
"Don't exchange what you do know for what you don't know," the letter advised.
Pastor Rob was challenged not to let the pain steal from him what he did know—Jesus loves him and his family; heaven is for real; and he will be reunited with his son in heaven someday.
"There are some things in life you cannot understand, but with Jesus, there is a peace that passes all understanding," he says.
The Kokes stand on the truth of God's Word.
"Our only source of peace is that heaven is a reality," Pastor Rob says. "When I see Caleb in heaven, no one should bother me for the first thousand years of eternity because I just want to hang out with my son."
These pastors find comfort in the reality that Caleb was "relocated" to heaven.
"We are spiritual beings," Pastor Laura observes. "Each of us doesn't just have an earthly destiny; we also have an eternal destiny. Life does not end with this life. We keep going."
Pastor Rob adds: "In the most poignant moments in the first two weeks after Caleb's relocation to heaven, God spoke to me deep in my heart that 'I have your son and your dad.' When you have the Holy Spirit giving you assurance, it's very special."
God has also given Pastor Laura dreams about her son.
"When I wanted to touch Caleb, I'd have a dream, and Caleb would hug me in my dream," she says. "When [his passing] hits home, I thank God for heaven. Caleb graduated to the ultimate. And we will get to be together forever."
Once when Pastor Laura was in and out of weeping and she had a deep desire to know that "everything is OK," it seems that God sent her a sign: "The most brilliant rainbow—a triple rainbow—appeared, speaking to my heart ... the promise of heaven," she says.
A few months after her son's passing, Pastor Laura spoke at SHINE, Shoreline Church's annual women's conference that attracts more than a thousand participants each October.
"I couldn't believe I could share at SHINE 2009, but I felt God's presence, and I felt as if Caleb was cheering me on to share the love of God and to encourage others."
The key to the Kokes' dealing with the tragedy has been a purposeful decision to put their trust in God.
"Sometime after his relocation to heaven, I said, 'God, I trust You. I don't understand it, but I know You love me,'" she says. "I did not want to live in depression. I want to live this way: 'God, I want to live in awe and wonder every day.' We learn to embrace the difficult while enjoying every day."
Finding healing through sharing her story, Pastor Laura recounted in her book Wonder her experience as a mother who went from tragedy to trust.
Equipping the Church
The Kokes have two other children, Danielle and Luke, who suffered the loss of their brother. After the accident, it took Pastor Rob a while to release Danielle and Luke to fully live their own lives.
"I said to myself years ago, 'This has happened to me once. I don't want it to happen again,'" he says. "But tragedy affects people differently."
Danielle was 14 when Caleb died. Caleb had been her best friend, according to her parents, so it was a significant struggle to cope with the loss. Danielle fell into the pit of alcohol and drug abuse.
"Danielle got caught in a cycle that she couldn't get out of," Pastor Rob says. "She got treatment, and she celebrated one year of sobriety in November of 2015."
Now, Danielle attends Celebrate Recovery and is helping facilitate at their church, The Landing, a teen recovery program affiliated with Celebrate Recovery.
"She has found an incredible sense of faith, purpose and destiny for herself," Pastor Rob says.
The Landing equips churches to offer a support group for teens dealing with peer pressure, abuse, addictions, parental divorce, bullying, anger, codependency and depression.
Providing a safe place for those in recovery is now woven into the way Shoreline operates as a church.
Not only has the Koke family survived the death of a son, but they also have used their grief to lead their church into a recovery that is changing lives in ways few churches do.
In his sermon series on freedom from hurts, habits and hang-ups, Pastor Rob uses a video titled "Danielle's Story" in which Danielle shares her recovery experience. At press time, the video had been viewed 17,600 times.
Making a Difference
The Kokes found help through a commitment to live for a cause—a higher purpose. To honor their son, they formed the Caleb Foundation, which has raised hundreds of thousands of dollars in the past six years to build three orphan homes, a wing in a children's hospital in Haiti, a playground in Africa and other projects to help support children and young people in need.
"Living for a cause bigger than ourselves and getting the focus off ourselves have made a huge difference," Pastor Laura says. "It brings some joy to know the next generation will be affected by what the Caleb Foundation does. When you keep giving your life away, the 'cause' kicks in."
The Kokes have found that helping to heal others brings a measure of healing to themselves as well.
"Because of people and the outpouring of their love, you wouldn't be able to convince me that there is no God," she says. "God brings you what you need when you need it."
However, both pastors were quick to say that in spite of all of the good the Caleb Foundation has done, the work doesn't help "make sense" of their son's death.
The foundation "doesn't make it OK or justify (Caleb's passing)," Pastor Rob says. "At the same time, God is a redeemer."
Thankfully, the family has found stability on what has been a rocky road.
"We're experiencing the power of the Holy Spirit in our lives more richly than ever before," Pastor Rob says.
Renewing Their Minds
Pastor Rob is grateful that the Bible addresses grieving.
"Grieving rewires your brain to be able to function," he says. "A healthy emotional response is honestly dealing with the pain, but (it must be) grieving with hope because of the death and resurrection of Jesus Christ."
Every night for three years, the couple has read a book about grief recovery or heaven in order to continually renew their minds.
"Grieving is part of healing," says Pastor Laura, who has a doctorate in chiropractic care. "If you don't deal with it, it can manifest in unhealthy ways."
Although the Kokes aren't aiming to be "grief experts," the way they have learned to deal with their pain serves as an example other church leaders can follow.
"Life is about embracing the truth," Pastor Rob says.
Instead of ignoring or denying their hurt, they have embraced the pain as a path to peace and healing.
"Turn to irrefutable Truth: God is all-powerful. Look at creation," Pastor Rob says. "And God is all-loving. Look at the cross. Where does it leave you while processing your emotions? That's the place where Laura and I landed."
The couple's experience is a model of recovery for church leaders who suffer significant loss.
"With God, nothing is wasted," Houston says, "And the Koke family is a beautiful example of the grace and faithfulness of our God through every season." 
---
Anthony Petrucci is a freelance writer who has also contributed to Charisma magazine.
Get Spirit-filled content delivered right to your inbox! Click here to subscribe to our newsletter.
---
Dr. Mark Rutland's

National Institute of Christian Leadership (NICL)

The NICL is one of the top leadership training programs in the U.S. taught by Dr. Mark Rutland. If you're the type of leader that likes to have total control over every aspect of your ministry and your future success, the NICL is right for you!

FREE NICL MINI-COURSE - Enroll for 3-hours of training from Dr. Rutland's full leadership course. Experience the NICL and decide if this training is right for you and your team.

Do you feel stuck? Do you feel like you're not growing? Do you need help from an expert in leadership? There is no other leadership training like the NICL. Gain the leadership skills and confidence you need to lead your church, business or ministry. Get ready to accomplish all of your God-given dreams. CLICK HERE for NICL training dates and details.

The NICL Online is an option for any leader with time or schedule constraints. It's also for leaders who want to expedite their training to receive advanced standing for Master Level credit hours. Work through Dr. Rutland's full training from the comfort of your home or ministry at your pace. Learn more about NICL Online. Learn more about NICL Online.