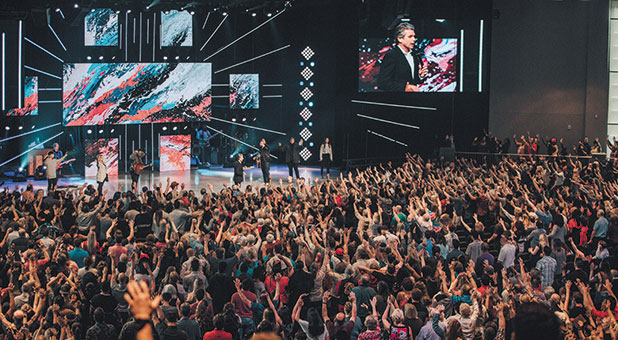 Jentezen Franklin hails from a strong heritage of faith, one he learned through his parents' many years of ministry. Today, as a senior pastor, he helms Free Chapel, a multicampus church with 20,000 members meeting in physical locations and over 1 million subscribers joining weekly services online.
The church began in Gainesville, Georgia, reached across the country to Orange County, California, then expanded to other campuses in Gwinnett, Georgia; Spartanburg, South Carolina; Buford, Georgia; Atlanta; and most recently, Cumming, Georgia.
The pastor who says he has "two last names" is "totally comfortable with 'Jentezen' or 'Pastor Jentezen.'" That's what he's called at Free Chapel, the only church he has ever led and which he has served for 29 years.
Pastor Jentezen sees himself as a visionary leader, one who believes his greatest gift is "to give direction and vision," he told Charisma Leader.
Get Spirit-filled content delivered right to your inbox! Click here to subscribe to our newsletter.
Godly Heritage
Pastor Jentezen's faith heritage began with his late father, Bill Franklin, a pastor, and his mother, Katie.
His father "never pastored a church that ran over 300 or 400 people, but he was a great mentor in spiritual things; he was a great preacher; he was a great studier of the Bible; he was a great person of habitual prayer, and that kind of got in me."
His mother, now in her 80s, is not only an active member of Free Chapel but also serves on staff.
"Anybody on staff will tell you she's probably the hardest worker we have," Pastor Jentezen said. "She is just an amazing person. She mentored me in all the fruits of the Spirit, which don't come natural for me. But she's meek, kind. She does about 18 rest-home services a month personally. She takes care of our seniors and has all kinds of trips and meals."
From Day One, his mother has served in the ministry with a work ethic that rubbed off on him.
"When I was growing up, my mother would cook biscuits at like 4 in the morning, so my dad could wrap them in aluminum foil and go to the cotton mill and sell those biscuits in the back of his little truck," Pastor Jentezen said. "He had a little truck and he wrote with paint—his name was Bill—'Bill's Meals on Wheels.' When the church was too small to support him as a full-time pastor, he would go sell those biscuits every morning to get enough money to stay in ministry. That's kind of my roots. So when you see that, it has an impact on you."
Raised in the church, Pastor Jentezen started in music ministry and then began preaching. Not only did his parents mentor him in the Spirit-led life, but also, he said, "the family teaches you a lot of leadership qualities."
Character Development
Life experiences have built Pastor Jentezen's character and taught him to lead effectively.
"I know I've changed," he said. "I have more compassion than I used to have; I have more mercy than I used to have; I have more patience than I used to have with people. I don't think there's a lot that can surprise me about people, and so it goes back to grace, it goes back to 'to be kind is to be holy.'"
These qualities have helped Pastor Jentezen be less reactive in trying times.
"No matter what's going on, keep your cool," he said. "I don't always succeed in this, but I try to. To be kind is to be holy. My first reaction I usually know is not the right one, and I need to pull back and give myself time, time to pray about it and think it through, time to deal with it mentally and process it. If I can buy myself time when a crisis comes, that's the best thing I can do, because then I'll get alone, I'll pray about it, get peace about it, get counsel about it. There was a time when I was too quick to make [decisions] right there and then, and I've learned to buy myself to make a good quality decision."
Mentors also have been invaluable to his character development and ministry training.
"A man who had a great impact on me was Tommy Barnett, still does," he said. "I went to a pastor's conference, and [while I was] sitting way up in the balcony, the Lord really touched me. We were growing, but we didn't have a clue to how to take the church to the next level. But I saw it and I heard it in Pastor Tommy."
As Free Chapel grew into the thousands, another key pastor from afar also influenced Pastor Jentezen and the church.
At that stage, "probably the greatest influence on me would be Brian Houston," he said. "The Hillsong movement just really began to affect us, our praise and worship. I just like the style, the way that they did things; it just seemed to work."
Pastor Jentezen observed that in different seasons of life, a person has different types of mentors.
"I think your mentors keep changing," he said. "I've gotten to know Craig Groeschel very well, and he has been a tremendous asset to me with advice, and Chris Hodges also.
"On the preaching side and on just development of my own character and family, T.F. Tenney was like a counselor to Charise and me in raising our children," he said. "We needed mentors. If you've never raised children, you can have a lot of theories, you can have a lot of advice for everybody who has children. But when you get them—we had three teenagers at one time in our house—you need a mentor. T.F. and his wife, Thetus, were certainly that to us. He's gone to be with the Lord in the last year, but boy, what a blessing he was."
Leadership Tools
Reading books, listening to podcasts and attending conferences have also been powerful tools for Pastor Jentezen.
"Somebody once said a man with a good library has a thousand good mentors," he said. "I'd have to say that [authors are] some of the greatest mentors I've never met, like Gene Edwards who wrote A Tale of Three Kings. That book transformed my life nearly 30 years ago. I never met the man, but wow, how many others in my library are mentors that I read in a few afternoons, and I got the wisdom of their whole life? Maybe 10 years of wisdom I got in three days of reading their book, and yet I never met them."
Leadership author John Maxwell also served as a powerful mentor through his books.
"I've met him now, and it's neat when you get to meet some of those people," he said. "But boy, when I was trying to develop as a leader, those people's books were invaluable to me."
Jentezen encourages other pastors to take advantage of the leadership tools now available through conferences and podcasts from key leaders.
As a young pastor with a growing church and later, when Free Chapel was running at several thousand people, Pastor Jentezen went to conferences to learn how to lead well, including in church administration, which, he said, is not his strong suit.
"If you want to talk about sermons, if you want to talk about studying the Bible, it's just natural to me," he said. "Even praying for people and ministering to people, that's natural for me. But the other side of administration—books, systems, finances and all of that—it's just something I had to grow, had to stretch myself in, and a good leader can do both."
Pastor Jentezen brings a certain passion to the pulpit and takes his responsibility there seriously. The people of Free Chapel have learned to believe their pastor consistently hears from the Lord.
"They trust you because they hear God speaking to them through you, which is a huge, huge responsibility, and it requires humility, it requires prayer," he said. "You can't have that voice inside of your voice to people unless you've spent time with God alone."
As a leader, that consistency brings respect.
"They follow you because they hear something greater in you when you speak, and that's the voice and the impressions of the Holy Spirit," he said. "You're just the donkey Jesus rides into the city. But I think that's vital to a ministry, to build trust with consistency in the pulpit of bringing a word from God."
Since Pastor Jentezen has been at Free Chapel for nearly three decades, the congregation has seen his highest highs and lowest lows.
"I haven't always [succeeded], but I've tried to be consistent and transparent," he said. "There have been times when I've just gotten up and was struggling."
He believes people appreciate the "vulnerability of being totally honest when something happens or even when you fail ... saying, 'Hey, I missed it. I was wrong, and I'm going to back up and do it right.' Thank God for grace and move on. I think that kind of stuff builds credibility and trust."
With his staff, Pastor Jentezen knows respect comes as "they watch your life and they watch how you treat them," he said. "How you reward people, how you take care of people, builds trust. Financial reward to people, taking care of their families, insurance—this sounds so unspiritual. But don't tell me you love me if you don't show it."
Blessing the families of staff goes a long way in conveying that the pastor and church truly care for them.
"We try to build trust in those ways," he said.
Ministry Challenges
Pastor Jentezen sees his most recent book, Love Like You've Never Been Hurt, as a message for people in leadership.
"If you're a true leader whom God has raised, you're going to go through a process of having to forgive people who have deeply, deeply hurt you," he said. "It's going to happen."
The book, which released last summer, takes a behind-the-scenes look at what it's like to be in ministry. Pastor Jentezen and his wife, Charise, decided to share openly from their personal experiences.
"If you want to raise the hood and see what ministry really looks like and what family life really looks like in ministry, this will show it to you, and it's not going to be what you like," he said. "But here's the beautiful thing. God is faithful, and man, what He's done in our family through this process of forgiving and being forgiven!
"Initially, forgiveness starts out as something I need to give somebody else, but then you find yourself, if you're not careful, building bitterness and resentment and doing things, saying things you need forgiveness for as a leader. I've absolutely had to ask for forgiveness. That's something that we all as leaders need to be aware of. Love like you've never been hurt, because the only other option is to be an untrusting, bitter angry, paranoid leader. 'Trust nobody'—that's a miserable way to live."
Pastor Jentezen sees forgiveness as foundational to faith and family, and critical in ministry when spiritual warfare is heavy.
"Family life is a journey in forgiveness, and that's really what I wanted to talk about with the book," he said. "Especially in ministry, [we look at] people who are seen and known, and sometimes we think they live in a fantasy world, but the truth is they're targets. The higher you climb up the hill, the stronger the wind blows. It's fast. Anytime you see someone God is really raising up and elevating, you better know the enemy has a big ol' target on them. If it can't get you, it's kind of like Adam and Eve in the garden. If it couldn't get Adam, the serpent went immediately for his wife. I think the enemy knows to smite the shepherd, and the sheep will scatter. And if you can't get the shepherd, then go after one of his kids or his family or try to bring division to that family. It's a distraction from the purpose and call of God."
As one who speaks to millions through his church, books and media ministry, Pastor Jentezen knows he has been attacked but believes God has used it for good.
"It takes the worst things done to you to bring out the best in you," he said. "Part of the crushing, part of the making of the man or woman of God, is going through risk, going through tears, going through deep hurt, and yet you get over it, you forgive, you learn to be forgiven and you go on. I hear people say all the time, 'Forgive and forget.' But that's really not possible. Forgiveness is not amnesia."
Instead, Jentezen believes, God desires the hurting person to remember what happened differently.
"It can become a reference point from which you look back and see how far God's brought you from that initial hurt that you went through."
New Directions
As a visionary leader, Pastor Jentezen moves ahead when others would hold back and wait.
"A visionary leader is the kind of person who doesn't have to have it all figured out as a requirement to begin a process of moving in that direction, and that's the kind of leader I am," he said. "I'm very spontaneous sometimes. I just try to pray about everything, and when I know that, I've got a clear direction, even if we don't have the system yet. And I know that it's a little dangerous, a little risky, but it's really worked for us because I trust my people. They're that good at what they do. If I have a gift, it's hearing from God for the ministry and the direction we need to go in, so if you can marry the two, you've got something special."
Looking ahead, Pastor Jentezen plans to maximize his gifts in writing a book a year, speaking at conferences and reaching more people by adding at least one Free Chapel campus a year.
Pastor Jentezen's television broadcast, Kingdom Connection, has always been a passion and part of his calling.
"I'm constantly trying to enlarge it, reach more people, translate into more languages," he said of the television broadcast that reaches approximately 250 countries. "We've just found it to be extremely effective. It's given us the opportunity to reach people we'd never reach without it."
The church established a Bible college about two and a half years ago on its main campus. Free Chapel College offers a degree and a ministry leadership program.
"We have over 100 students in our second year, so that's kind of neat to see that off and going," he said. "It's filled the whole campus with life."
Jentezen has also been pouring into young pastors through the conferences Free Chapel holds and more personally in smaller gatherings.
"If it's a true ministry that God can bless, it's generational," he said. "I need to be thinking 50-60 years down the road, and I'm starting to at least put my head in that game some and just pray and look and notice. I'm really focused on raising up young leaders."
At a recent event, he had his "first little gathering of young pastors," he said. "We've personally invited 20 pastors and their wives of churches that are in the range of 500 to 1,000 people, and we're just going to have two days of gathering together. I want to pour into them all I can. We're going to have them over to our home."
But the training is not all one-way.
"I love hearing the issues they care about and are interested in that I need to know about as a 56-year-old leader, so it's as much me learning from them as it is for them learning from me," he said.
When he does pour into young pastors, as he has with Free Chapel's Forward Conference, he finds intensity.
"They're so hungry, they're like sponges," he said. "I guess some of the things we just take for granted that every young leader in the ministry already knows—they don't know. For them, a light bulb comes on sometimes."
Just as his parents raised him to be a student of the Word, a passionate prayer warrior and a follower of the Holy Spirit, Pastor Jentezen is now cultivating those characteristics in the people to whom he ministers, whether face to face, in the classroom or from the pulpit. His long and fruitful ministry bears witness.
---
CHARISMA is the only magazine dedicated to reporting on what the Holy Spirit is doing in the lives of believers around the world. If you are thirsty for more of God's presence and His Holy Spirit, subscribe to CHARISMA and join a family of believers that choose to live life in the Spirit. CLICK HERE for a special offer.
Get Spirit-filled content delivered right to your inbox! Click here to subscribe to our newsletter.
---
Dr. Mark Rutland's

National Institute of Christian Leadership (NICL)

The NICL is one of the top leadership training programs in the U.S. taught by Dr. Mark Rutland. If you're the type of leader that likes to have total control over every aspect of your ministry and your future success, the NICL is right for you!

FREE NICL MINI-COURSE - Enroll for 3-hours of training from Dr. Rutland's full leadership course. Experience the NICL and decide if this training is right for you and your team.

Do you feel stuck? Do you feel like you're not growing? Do you need help from an expert in leadership? There is no other leadership training like the NICL. Gain the leadership skills and confidence you need to lead your church, business or ministry. Get ready to accomplish all of your God-given dreams. CLICK HERE for NICL training dates and details.

The NICL Online is an option for any leader with time or schedule constraints. It's also for leaders who want to expedite their training to receive advanced standing for Master Level credit hours. Work through Dr. Rutland's full training from the comfort of your home or ministry at your pace. Learn more about NICL Online. Learn more about NICL Online.