Details

Written by Dan Reiland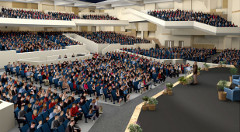 I love to eat! When I was in high school, I would go for a day or two without eating and never even notice. We had plenty of food; I was just busy with other things. Now I barely go for an hour or two without being tempted by something with enough calories to add pounds just by looking at it.
I appreciate a nice restaurant with quality food and great service. I love Atlanta, but it did take some getting used to "all things fried" and sweet tea so sweet it can take the enamel off your teeth. So each time Patti and I find a really great restaurant, we are thrilled.
Large and small restaurants share a similar purpose. They want to serve good food, provide good service and make a profit. But they are different in nature. Small, one-of-a-kind restaurants have different concerns than the larger "mega" restaurants, chains and franchises do.